Our Remembrance Day service will be held at 11am on the 11th of November at Heinz Reserve.
Please advise reception if you will be attending, refreshments will be provided at the RSL after the service.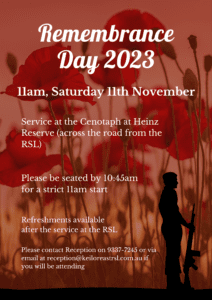 Come along to our next Service Person's Dinner on the 20th of November from 6pm! Please contact reception on 9337-7245 to secure your booking.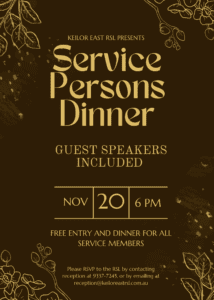 Come along to our Melbourne Cup festivities! The fun begins at 12 noon, and snacks will be available from the bistro to purchase.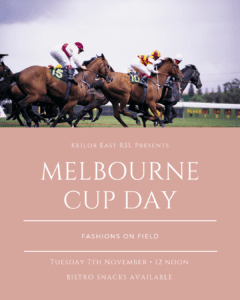 Trivia Night is on every Wednesday at 6:30pm! Grab a table of between 2-10 people and get ready to answer a bunch of questions built to challenge even the most talented trivia genius! Many fantastic prizes to be won! $10 per head entry.
Please text Ben on 0431611425 to reserve your table!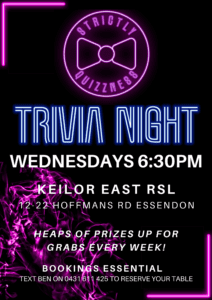 Morning Melodies takes place on the second Tuesday of every month, from 11 AM - 1 PM.
$7.50 per head, morning tea will be provided.
Bookings essential. Please contact reception at (03) 9337 7245 to secure your place.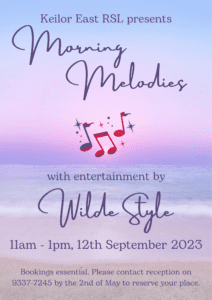 Our next Veteran's Lunch will be held on the 19th of November
Veteran's Lunch is held on the third Thursday of every month, from 11:30 AM - 1:30 PM.
Bookings essential, please contact reception on (03) 9337 7245 to secure your place.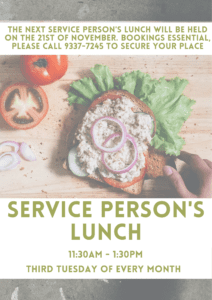 Tee off at 8 AM. New ladies and men players welcome. Why not make it a family day out? Golf carts are available for hire. Join the players back at the KERSL club afterward. Contact Pauline Grinter at (04) 5078 2267.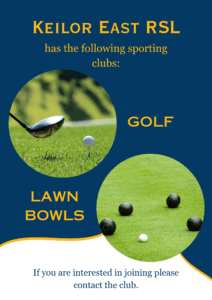 Prostate Cancer Support Group
The Essendon Prostate Cancer Support Group is a support group for men who are diagnosed with prostate cancer to share their experiences and support one another in their journey.
Meetings are held on the second Monday of every month, at 7 PM, in the function room upstairs. All men, their partners, and family members are welcome to attend.
If you are interested in attending or have any questions, please contact Robert at (04) 1950 6926 or by emailing robert@hawkaviation.com.au.
Further details about the Prostate Cancer Foundation of Australia can be found at pcfa.org.au or by calling 1800-220-099.
Raffles and Members Draws
Raffles and Members draw held Thursday and Friday evenings. Raffle tickets will be available from 5 PM, and the Members will draw at approximately 7 PM.
Anyone interested in joining the Horserace Tipping competition to contact Reception ((03) 9337 7245).
Vietnam Veteran's Day 2023
Our Vietnam Veteran's Day service took place on Friday the 18th of August, to mark the 50th anniversary of the end of Australian involvement in the Vietnam War.
Our service was held inside due to poor weather. Thank you to everyone that attended to pay their respects.
Lest we forget
Commemorating 50 years since the end of the Vietnam War. 
Keilor East RSL took part in this vigil, laying wreaths on the graves of local Vietnam veterans at the Keilor Cemetery.
Service Person's Dinner, 14th August 2023
Service Person's Dinner, 8th May 2023
Vietnam Veteran's Day 2022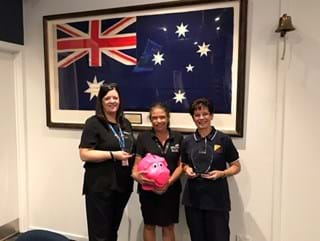 A very special thank you and congratulations to the Keilor East RSL community, who won 1st place in the community awards in 2020-2021, and 3rd place in the community awards in 2019-2020, with all donations going towards the Very Special Kids Appeal.
Congratulations, and well done on a magnificent result!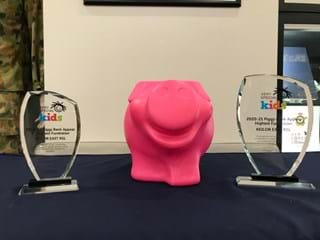 Planning some short or long trips? Why not check out the National Register of War Memorials? Click here.